Night of the Indigenous Devs Proceedings 2019
A collection of essays, letters, reflections along with game summaries and images from the very first Night of the Indigenous Devs.
---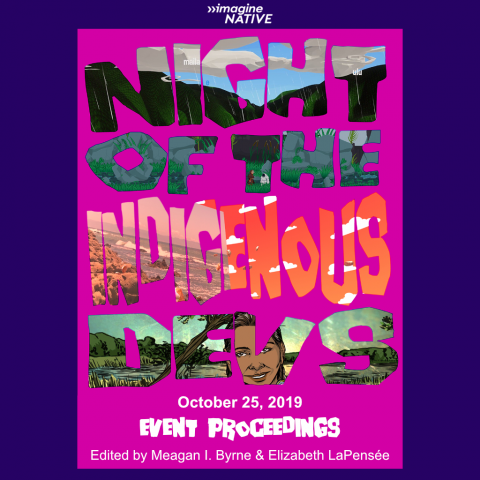 Imprint
ETC Press: Proceedings
Release Date
November 17, 2020
DOI / Citations
https://doi.org/10.1184/R1/13247339.v1
Total Downloads: 788
What is possible when Indigenous people take curation into their own hands? Night of the Indigenous Devs seeks to create a place that understands why Indigenous digital creatives and video game creators need a space tailored to them and their needs. A space for us, by us.
Night of the Indigenous Devs expands peoples' understanding of just what makes something "Indigenous" by providing an opportunity for an audience to watch live game play while getting real-time commentary from Indigenous creators. This proceedings takes that expansion even further with essays and reflections from some of the speakers plus screenshots and summaries of the games shown. It's an evening of play and knowledge sharing brought to you in book form to enjoy.