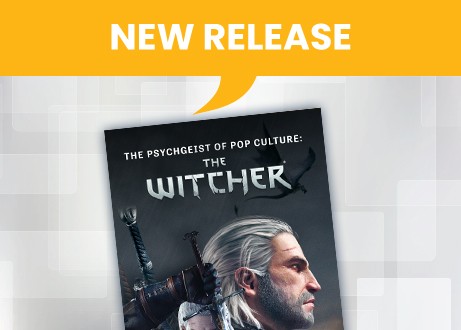 The ETC Press is proud to announce the release of The Psychgeist of Pop Culture: The Witcher, edited by Dr. Rachel Kowert, the first book in a new series that explores the psychological reasons that drive our connection to popular culture.
The Psychgeist of Pop Culture: The Witcher delves into the psychology of the characters and stories of this popular franchise. From the original book collection to best-selling video game series to the hugely popular Netflix show, The Witcher is a transmedia experience that has captivated hearts and minds across the globe. In this series of edited essays, we explore the psychology behind what makes this fandom so captivating and answer why—in The Continent filled with magic—we found ourselves and our lives reflected within it.
"For the uninitiated, it would be easy to write off the world of The Witcher as one of monsters and muscular men, swords and sorceresses and sacred prophesies, all familiar hallmarks of high fantasy. But the fact that so many varied authors and experts contributed to The Psychgeist of Pop Culture: The Witcher proves how deeply and widely the stories of the Continent resonate in the real world," said Lauren Schmidt Hissrich, showrunner and executive producer for Netflix' The Witcher.
"From the psychology of parenting to codes of ethics, from the ripples of trauma to the power of love, fans of the books, the video games, or the Netflix series alike will find themselves immersed not in what happened to their beloved characters but why—and how certain choices, conscious or otherwise, not only twist the paths of Geralt and Co's stories but our understanding of them. You'll never read, play, or watch The Witcher quite the same again."
The Witcher is the first book in Kowert's The Psychgeist of Pop Culture, an edited book series developed to highlight the iconic pop culture content from television, film, literature, and video games through an examination of the psychological mechanisms that endear us to these stories for a lifetime. Rather than an editorial or opinion collection, this science-led series focuses on the psychological underpinnings of these stories' character development, relationships, and environment.
Forthcoming books in the series will include The Mandalorian, Stranger Things, Stardew Valley, and Black Mirror.
The Psychgeist of Pop Culture book series is the latest offering from Psychgeist, Kowert's multimedia content production studio for the science of games and pop culture, including a YouTube channel and (mostly) monthly newsletter.
Questions about this book or the Psychgeist series should be directed to Kowert.
Questions about the ETC Press should be directed to Editorial Director Brad King.