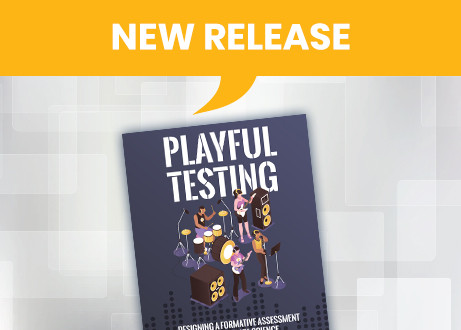 The ETC Press is proud to announce the release of Playful Testing Designing a Formative Assessment Game for Data Science, by Nathan Holbert, Daisy Rutstein, Matthew Berland, Betsy DiSalvo, Jeremy Roschelle, Vishesh Kumar, Satabdi Basu, Reina Fujii, & Beth Pinzur.
In this volume, an interdisciplinary team of researchers shares insights from three years of intensive design research resulting in a game for assessment of computer science and data science skills. The context, grounded in New York City public schools and the needs of middle school students and teachers, set a challenging innovation agenda. Beats Empire, the formative assessment game designed in response to these challenges, quickly garnered many awards and downloads.
The game offers each student an opportunity to manage recording artists, shaping the parameters of their recordings in response to their analysis of song trends in an imaginary metropolis. The learning and assessment themes align to a national computer science framework; the topics of data collection, storage, visualization and interpretation are key data science skills that are relevant across many subjects, such as math, science, and social studies. Game play maps realistically onto how today's music industry producers and managers use data to increase their artists' followers, listens, and sales.
This book follows the team through the initial design process, the development of the game, its implementation in a middle school classroom, the research that came from game data, and reflections on lessons learned and future directions. By explaining in detail the team's game design process, and connecting this account to prior research on game and assessment design, this book offers important insights into the design of assessment games.