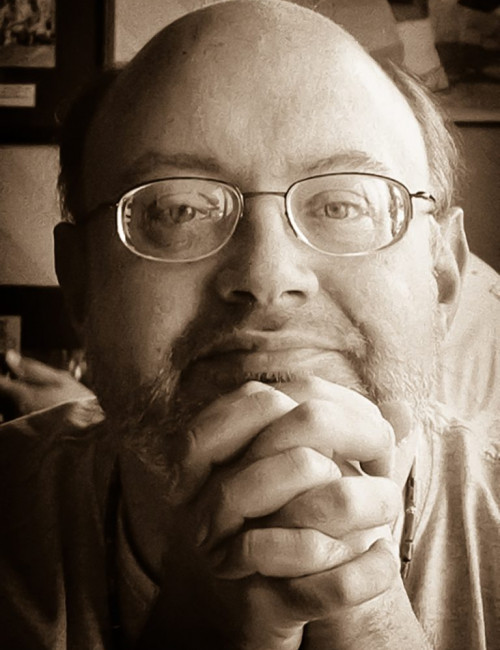 Game Designer
Trained as a theatrical lighting designer, Chris Klug began his career in the arts working on Broadway, in regional theater and toured with various 70's rock n' roll bands. Then, at the invitation of a fellow photographer, Chris transitioned into a career as a Game Designer. Starting with Simulations Publications, Inc., in 1981, he was first Assistant Designer on Universe (a sci-fi role playing game), then was Lead Designer for the 2nd edition of DragonQuest (a fantasy RPG), Horror Hotel (something's lurking in the shadows of an old Victorian mansion) and Damocles Mission (a sci-fi strategy game about exploring an alien artifact). While at SPI he edited the role playing section of Ares magazine.
When TSR bought SPI in 1982, Chris and the rest of the SPI staff moved on to start-up Victory Games. While at Victory, Chris managed the role playing games product line and designed the James Bond 007 role playing game (a winner of an H.G. Wells RPG Game of the Year Award as well as the winner of TSR's RPGA award). This game has been hailed as one of the first RPGs to emphasize story and narrative.
He also designed a number of adventures based on the movies (Live and Let Die won RPG Adventure of the Year), followed up by a solitaire board game — Open Fire — based on Victory's Ambush system.
After a time as a Macintosh consultant to New York City's magazine publishing industry, Chris moved on to freelance video game design and worked for SegaSoft, TSR, Hasbro Interactive, 3W, THQ, Simon and Schuster Interactive, Target Games, h2o Interactive, and Gizmo Games In that industry Chris has more than a dozen titles to his credit, including "RPG Story of the Year" award for Aidyn Chronicles: First Mage. Some of his computer game credits include Star Trek DS9: Dominion Wars, Europa Universalis, Duke Nukem: Time to Kill, and Diamond Dreams Baseball.
Chris then joined EA's Westwood Studios full-time as a content and story specialist, leading the narrative team for EA's first MMO, Earth & Beyond, for which Chris later became Creative Director.
Chris then became Creative Director at Cheyenne Mountain Entertainment in Mesa, Arizona, designing Stargate Worlds, an MMO based on the Stargate television franchise. Chris also worked closely with Brad Wright and the Stargate writing staff on efforts to sync up the evolving story in both the TV series as well as the MMO.
While teaching at the ETC, Chris secured an $8 million investment in an innovative social game/mobile game platform, Dream Wedding Planner, and launched the product in the spring of 2014.
In addition to teaching story, game design and creating writing at CMU, Chris consults with game publishers around the world.
Chris is a playwright and member of the Writer's Guild of America West.